QITTERI IS A NEW, CONTEMPORARY HIGH-END FRENCH JEWELLERY BRAND.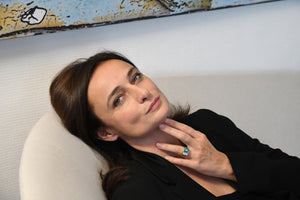 It is the fruit of a collaboration between a designer with a passion for innovation and great collectors who love rare stones.

It is for those who like to discover new ground, natural beauty, elegance and simplicity. For those who love the luxury of a unique piece.
It offers a journey through pure, ingenious architectures, highlighting unique colour harmonies made up of assemblies of exceptional gems used only in high jewellery.
The creator
Architect and designer, Michel Tortel has won numerous international awards. Between iconic contemporary houses, furniture and even helicopters, his wide range of knowledge and expertise has been formed over several hundred projects.
His world-renowned work in urban lighting has seduced the largest cities in the world for decades, placing him at the heart of our daily lives. He is the author, among other things, of the main luminaries of the city of Paris and illuminates the Bund of Shanghai.
Sensitive to the preservation of the planet, he designs all his products so that they have the longest possible life in order to reduce the consumption of resources.
Passionate about stones, a great collector, he has always been on the lookout for exceptional pieces, taking advantage of his many trips to the four corners of the world to meet extraordinary craftsmen, lapidaries and suppliers of gemstones.
His passion has its origins in childhood when during holidays, he traveled around France with his family in search of old mines or sites indicated on old gemological guides kept by his mother, a great lover of minerals.
This taste for exploration has never left him.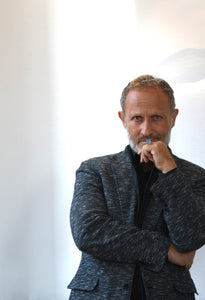 concept philosophy
Every cut of gemstone, whatever its nature or colour, emits its own specific light. By working with original combinations, playing with diffraction and the directions of emitted light, it is possible to create a new world of subtle lights and colours.
Each piece of QITTERI jewellery is conceived as a work of art, an abstract design in which each element is chosen and tested at different times of day so that at any moment, light and colour are perfectly balanced and blended.
Our design is simple, refined. In some pieces, it evokes a form of timeless classicism. A language that could have been inspired by Art Deco or contemporary architecture, but whose lines are in fact purely the result of the paths taken by light.
Our universe unfolds to begin with, on five collections setting out new ways of contemplating the light of precious stones. They explore conceptual ideas, woven into poetic tales of exploration and of love.
Our creative heart is the ring, the jewel of kings. Its language is then declined to dress the body.
Our collections are not ephemeral, they live and expand over time. We create in the long term to caress the essential.
Most of our pieces are unique because the same stone never exists twice and above all because the ones we use are rare and each painting is harmonized stone by stone.
Our collections are exclusively made in rhodium-plated 18-carat white gold


QITTERI, CREATOR OF ICONS OF LIGHTS